When Octopath Traveler came out, I was beyond excited to dive into it and really see what it had to offer. With 8 main characters, it seemed tailor-made for our usual group plus a few of our usual add-on members, but I ended up struggling to figure out which character best suited me and that I liked. Glitz was a shoe-in for Cyrus but despite my appreciation of Therion, I realized halfway into making him that I just… wouldn't look good. I wouldn't look decent. It was going to be a hot mess, and it wouldn't be fun for me as a result.
OPT was really fun and had a lot of really beautiful character designs, so it wasn't hard to find secondary characters that appealed to me. I initially fell in love with Captain Leon, but alas! There's no actual art of him, only his overworld sprite. That, coupled with the lack of a confirmed Tressa for our group, left me with the understanding that I would be the 'can you move so I can get a picture of the Octopaths?' guy if I were to commit to him.

My second choice went to Erhardt who had a lovely battle sprite and some concept art to base my costume decisions on. His outfit was also a pallette swap of Olberic's default costume, so any further details I would be able to glean from the more detailed and varied artwork available for him.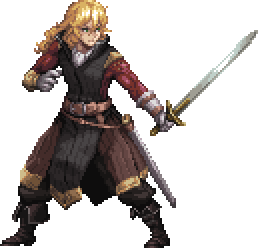 The problem arose again: would anyone recognize me without an Olberic for context? Thankfully, after making Alfyn, Type09 decided that he wanted to do the Warmaster variant of Olberic, so I set out to finally make my own Octopath costume!
Continue reading

"Making Of: Erhardt (Part 1)"